A: Sonic Aid Model: ELITE 200R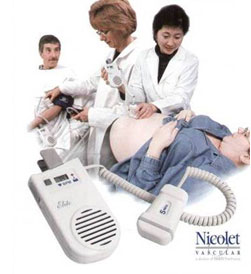 The Elite from Nicolet Vascular offers everything that you need in a Doppler system. The Elite is a configurable, ultrasound Doppler used to detect the fetal heartbeat and to assist in monitoring peripheral article and venous blood flow. We've taken over 20 years of Doppler experience and created a product that excels in every facet of performance. The Elite has a comfortable probe shape that makes finding a signal easier than ever before. Elite combines extreme sensitivity and incredibly clear, static-free sound into a compact, pocket-sized package. Plus, the various options can be configured to meet you specific needs. The Elite sets new standards for pocket Doppler performance. The comfortable shape of the Elite probe is easy to hold and features broad-beam technology, making it very easy to find and lock onto the signal of interest. Our probe technology has been tested in OB applications for years and is effective in detecting fetal heartbeats as early as 8 weeks in most pregnancies.
B: Sonic Aid Model: IMEX DOP CT+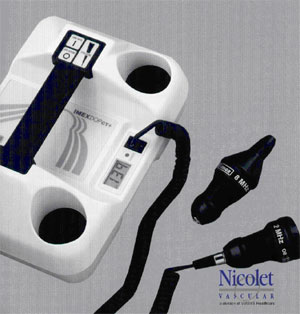 Once you use the IMEXDOPCT+, you will understand why Nicolet Vascular is known for giving you more features for your investment. From the easy-to-use touch controls to the unique smart-charging stand, we included all of the features our customers asked for in a Doppler system. We're confident the features of the IMEXDOPCT+ will surpass the requirements of even the most demanding user. The reliability and performance of the IMEXDOPCT+ has been proven with years of experience and thousands of units in use.
C: Sonic Aid Model: Versalab APM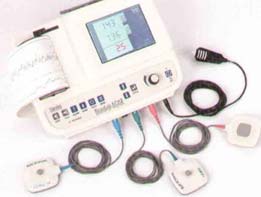 The Nicolet VersaLab APM is a portable, economical antepartum monitor (APM) for performing non-stress tests. It is the smallest and lightest APM available that features a built-in printer. It is easily moved between exam rooms, satellite clinics, or taken to remote settings, which makes it ideal for clinicians who do in-home monitoring. Now with battery operation there is no need to interrupt monitoring if you have to move the patient.