A: Analog
The Planmed Sophie Class i cm ammography x - ray unit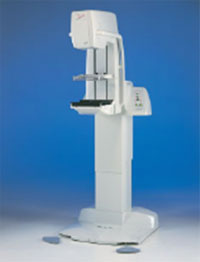 The Planmed Sophie* Classic provides a cost effective solution for ammography through a simplified basic design and modular structure. Its excellent image quality is assured through the use of high speed bi-angular x-ray tube, high frequency constant potential generator and optimized imaging geometry. Swift and controllable motorized functions combined with the latest development solutions ensure efficient working and maximum patient through-put. Patient-friendly design and low radiation dose minimize patient concerns. Whether you need a basic screening unit for high-volume mammography screening or a more versatile unit for sophisticated diagnostic procedures, you will find the ideal configuration for your purposes from the Sophie Classic selection. The system incorporates a modular structure which can be easily expanded from basic screening needs all the way into advanced imaging procedures like computerized stereotactic imaging.
Model: Sophie Classic mobile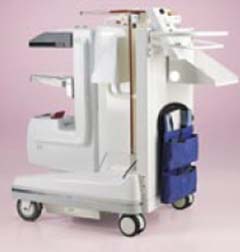 The Planmed Sophie Classic Mobile is the mobile version of the Planmed Sophie Classic mammography unit. Sophie Classic Mobile provides a cost-effective solution to mobile mammography. Light-weight, compact size and equipped with four large wheels make the unit easy to move. With the total height of 119 cm (46 7/8") and weight of 180 kg (396 lbs) the Sophie Classic Mobile is easily transported in a normal van.
B: Digital
Model: Nuance – premium class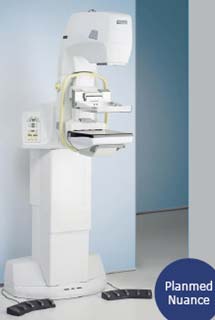 Ultimate digital imaging performance combined with exquisite design and user ergonomics. Planmed Nuance provides unparalleled digital image quality and multi-featured diagnostic software solutions for image acquisition, softcopy reading and digital connectivity. Planmed Nuance delivers clearly superior clinical quality with optimal dose. The high speed X-ray tube with dedicated magnification track and ingenious digital Flex-AEC allow high patient through-put with uncompromised image quality.