A: Fixed Units
RADspeed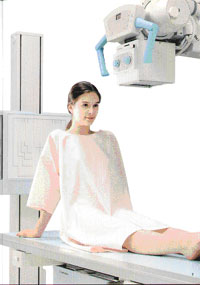 Advanced unit; suitable for hospital use. With a near century of experience in manufacturing X-ray apparatus, Shimadzu's expertise in X-ray systems is well recognized. For years, now, Shimadzu's medical X-ray products have been associated with legendary reliability, cost-effectiveness and quality in the industry. Shimadzu General Radiographic System is imbued with the Shimadzu heritage, naturally. In addition, the system features state-of-the-art technology that enhances productivity, user-friendliness, patient comfort and safety. Ceiling suspends model system C-series, combined from ceiling-suspended X-ray tube with a wide movement range allows excellent imaging technique flexibility and easy access to the patient. The advantage of flexibility is ideal for imaging centers that demand high productivity to meet fast patient throughput.
EZy-Rad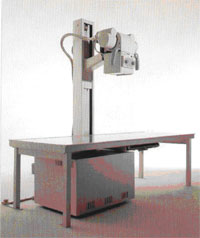 Simple one which is suitable for private clinics & public poly clinics. EZy-Rad is another quality imaging system from Shimadzu. It is fully integrated radiographic system developed with state-of-the-art technology. The compact system is designed to save space while minimizing installation time (1 day working) to speed up return on the investment. Easy operation is another key system feature.
B: Mobile Units
MOBILEART eco Model MUX 10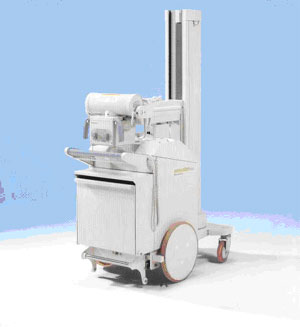 One of Shimadzu's generations is Manual driven mobile X-Ray system which allows X-rays to be taken easily in limited spaces. This is made possible by the flexibility of the new X-ray tube support system with its telescopic arm which minimizes the necessity to continually relocate the main unit. Of its main advantage the external shape is compact and good visibility design for moving safely. Light weight design to achieve easy maneuverability in the hospital. It is the lightest device of its type in the industry, with an easy-to-use telescopic system.
MOBILEART Plus Model: MUX 100H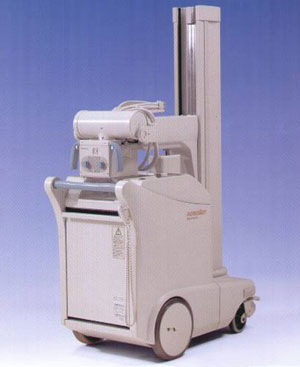 Shimadzu's new generation Motor driven Is designed by integrating solutions for the real requirements from the field for mobile imaging. Superb maneuverability, flexible bedside operation, sophisticated radiographic functions. Many thoughtful features, such as the wide forward field of view and a front safety bumper with automatic-stop sensor, make it a breeze to move Mobile system around.